Rocks'n'Diamonds 4.0.1.0 released!
2017-10-03
This new release mainly adds improved support for game controllers and joysticks. While old-style joysticks and game pads were supported since a long time ago in Rocks'n'Diamonds, modern game controllers like the Xbox game controller were not supported very well until now.
Game controller support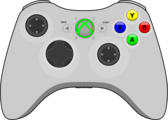 Rocks'n'Diamonds now supports all joysticks and game controllers by mapping their buttons and axes to a generic Xbox style game controller. Most modern controllers, like the original Xbox 360 controller or any similar game controllers, are now supported directly and without any further configuration. New controllers that are not automatically detected can easily be configured in a new setup dialog.
Amazon Fire TV support
Extra effort was made to fully support the Amazon Fire TV remote control and therefore make Rocks'n'Diamonds perfectly playable from your sofa, even without using an additional game controller (which is also possible, of course). See images for menu and game controls!
In addition, the new release also contains the following changes and fixes:
added enabling/disabling virtual button overlay depending on input events
added using single button for snap and drop when using native EM engine
fixed bug with TAS snap keys sometimes moving the player (EM engine only)
fixed and improved single step mode for all game engines
Important update for Android users (2018-01-26): Some image files for the game controller configuration page were missing from the original 4.0.1.0 APK package file, so navigating to that page resulted in an error. The Android package has been fixed and can be downloaded again.
Now available for download!